EROS STUDIES: CATHOLOCISM & KINK 🕳️
INVITATION

key words
: kink, bdsm, ecology, eros, thanatos, munch, flirt, sex education, catholocism,hot nuns, flogging, flaggelation, praise kink
You're invited to eros studies, an intimate gathering: part educational series, part munch*, part oral history but mainly a series of mostly horizontal conversations that invite collective exploration into the realms of ecology, sexuality, kink, and BDSM organized by Cy X.
Catholic design in kink: Transgressing the "divine" to reclaim shame featuring Gabriella Garcia is the second eros study. Despite the deeply atrocious history of the Catholic church, its elements relentlessly appear in places of transgression. From BDSM dungeons, to queer cinema, to sex work, this study will explore how perverting the ultimate oppressor has has created a tapestry of the erotic as complex and prismatic as a Cathedral's stained-glass window. How can embracing the manifestation of Collective Shadows within us open new pathways of intimate connection?
This event will feature breathwork, guided meditations, herbal education, open conversations, and a sexy cool down activity! We will also screen Four Chamber's "Divine Rites."s ii."
Gabriella Garcia (s/h)
is a researcher, performer, and poetic technologist. Her work explores the protection of radical self-expression, networked subcultures, and cybernetic intimacy. As a performance artist, Gabriella works to create spaces ruled by vulnerability. Find her on IG @stabriella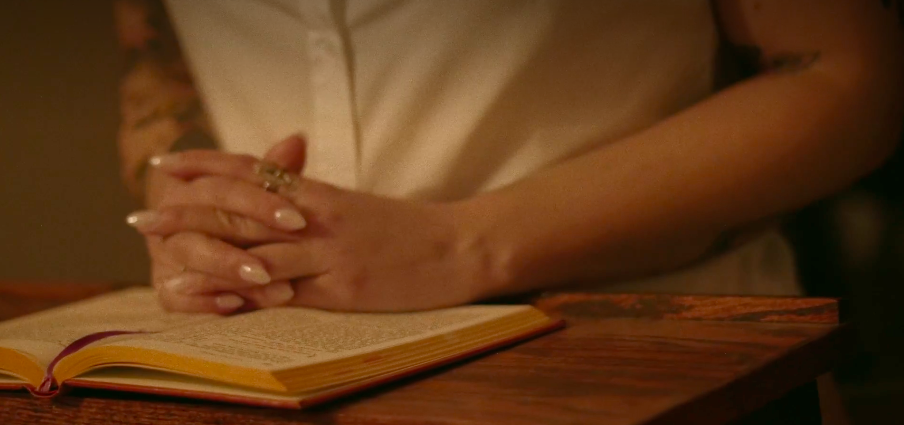 Still from Divine Rites



Part II - both raised with Catholicism to varying degrees and both devout femme dykes, their relationship weaves the symbolism and practices of the church with BDSM and service to mine the complicated, painful history of religion's relationship to queerness for intense explorations in suffering and intimacy. Think St Sebastian shot with arrows, think the whipping scene in The Passion of the Christ, think lesbians sent to the convent to be punished.
"Taking that darkness and playing inside of it"
Eroticising shame has always been used as a powerful tool for healing and freedom in queer spaces, expanding what sex and intimacy can mean and be outside of straight normatively leads to deep explorations in bonding and trust outside of societally prescribed doctrine. Sex can mean and be and do many things and it can be written and rewritten according to need, a tool used to explore rather than something functional and fixed.
The Code of Conduct

✿ Consent is mandatory, we have zero tolerance for harassment, and confidentiality is key.
✿ We welcome agreements and communication that center mutual respect, care, and curiosity.
✿ Fluid participation is welcome and in the name of self-responsibility, we ask that everyone assess their availability to engage with work and conversation that is erotic in nature; Although we are getting poetic about holes, we will not be de-sexualizing them
✿ This space is for and centers queer and trans folks and our erotic expressions, although all are welcome. Mutual respect also means asking people how they want to be addressed instead of assuming their pronouns based on their outward appearance.
✿We co-create this cauldron by paying attention to each person, and to the group as a whole
✿No fixing or advising or setting each other straight. You don't need to jutify or explain your emotions
✿Yes, No, Maybe and I changed my mind are all welcome responses. You are your own authority. ✿Take responsibility for self-care. If you agree to do something, it's not a contract. You can change your mind at any time and choose whether or not to participate in any exercise.
JUST ONE BIG SHARED BODY BABY © COPYRIGHT 2022